BACKGROUND
Colegio de Arbitros de Futbol de Los Angeles (CAFLA) is a non-profit soccer referee organization founded on March 23rd, 1962 by Mr. Ricardo Barbas Tamayo (1940-2018) and other former professional soccer referees.
In 1994, CAFLA was incorporated as an official non-profit organization in the City of Commerce by Mr. Arturo Angeles and since then has been legally known as CAFLA, Inc.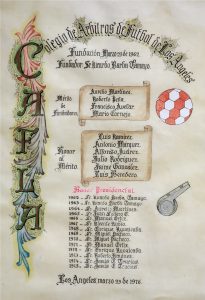 VISION
The focus of CAFLA is to develop individuals who demonstrate an interest in officiation soccer to become the best referees they can be based on their abilities.

MISSION
To develop soccer referees, instructors, and assessors by promoting the study, understanding, and proper application of the Laws of the Game.
CORE VALUES
OBJECTIVES
Develop referees, with the desire, commitment, and dedication to officiate with similar manner at all levels of the game competition.
Prepare referees to be recognized as CAFLA referees.